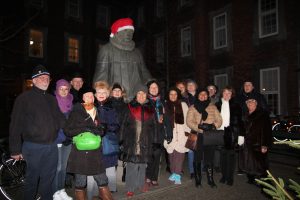 Each year we arrange a Christmas event so that our members are able to enjoy different aspects of the many wonderful Danish Christmas traditions. This year, the organisation The World's Women in Denmark invited its members on a Christmas stroll, guided by talented lecturers from 'Københavnerture', a company specialising in guided tours throughout Copenhagen. This was a lovely experience where we gained insight into many different Danish Christmas traditions, where they come from and how entertaining they can be.
We walked down the narrow passages of the decorated inner Copenhagen, and listened to stories about the Viking solstice and the joyous words of monks – Words of belief and superstition, of elves and angels.
We learnt about why we dance around the Christmas tree and why we hide whole almonds in the almond pudding, also known as ris á l'amande. There was also talk of when Christmas became commercialised and how it was celebrated in the 1800s. On our own initiative, we sang a few Christmas carols together as several of our members sing in the talented women's choir World Sirens, having just finished preparing for their annual Christmas performance. We also particularly enjoyed learning more about song and hymn composers like Peter Faber and Grundtvig. Furthermore, we were told about the concept of Christmas post and the story behind the Christmas post stamp. Throughout the stroll, we drank mulled wine and tasted traditional Christmas delicacies.
We warmly recommend our fellow organizations to partake in these Christmas strolls guided by the lecturers from Københavnerture.