The first recipient of The Alma Award is Manal Jacob.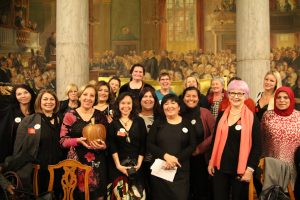 Manal receives the award for her extensive communication work with immigrant women from different ethnic groups and religious groups. However, she also receives it for challenging the convention that leaders of major integration projects always are ethnic Danes.
Manal has the best experiences, she is innovative and shows a committed effort, which can inspire other immigrant women to join the debate and the society.
Manal has earned the award for her great work as project manager, where she with commitment, a high spirit, helpfulness, skills and courage has been a cornerstone to the catering association "Ishtar – The Ethnic Feminists" (in Danish "Ishtar – De Etniske Rødstrømper"), which has developed into a social-economic company.
Manal is a fiery soul in every way. She has the strength and enthusiasm to convince politicians, sponsors and companies how important it is to focus on immigrant women's resources and experiences.
---
If you have any questions or comments please send us an email or fill a form below.