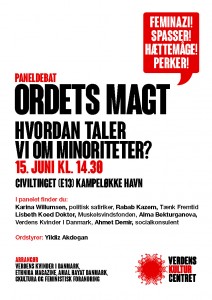 Verdens kvinder i Danmark in cooperation with others from VerdensKulturCentrets network is planning to hold an event at Folkemødet in Bornholm. We will discuss how to talk about minorities, in order to hear them and to include them in the community.
Words can hurt. Words create generalizations, stereotypes and prejudices about entire groups of people in the Danish society. We define and limit each other with words but we humans do not fit in the narrow boxes. That is why we are going with this arrangement create a platform where people who are affected by these words, can themselves put words from their own experiences and determine those boxes.
The debate "The word's power – how do we talk about minorities" takes place at Civiltinget v. Kampeløkke Havn, Thursday 15/6 kl. 14.30-16.00. We hope to see many of those, who are interested in how different groups of minorities feel, when we talk about and with them.