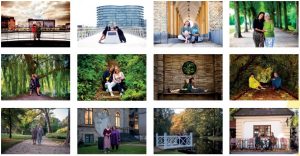 The organisation The World's Women in Denmark wants to deflate the myth claiming that Danes are shut-off and difficult to befriend. Therefore we have produced a calendar in which we present twelve friendships that together paint a broad picture of the world – Danish women whose friends widely originate from Vietnam to Ghana and from Turkey to Morocco. Each photograph tells the story of each particular friendship, and we hope that this will inspire others to become more active in seeking out new friendships.
We especially hope that these twelve examples will lead to new meetings with ethnic Danes and contribute to the forming of new friendships. Thank you to all the women who participated in this project and contributed to a more open and welcoming Denmark that puts diversity in focus. Thank you to our sponsors FIU-equality and Nørrebro local election. A special thanks to our volunteer photographers Daniel Tuladhar and Claudia Adeath, as well as out graphics responsible Lena Axelsen and author Hanne Stevnsborg.
We are now in the process of sending out our calendar to the organisations, projects and institutions that work with integration as a Christmas present. It will also be sent to Christiansborg, for the integration leaders of all parties as well as the minister of immigration and integration.
For anyone interested, our calendar can be printed off our website.