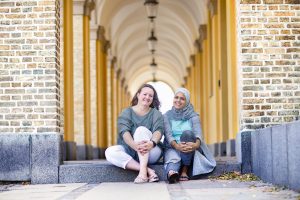 A picture is worth a thousand words. The World's Women in Denmark has a strong desire to help deflate the myth that claims the Danish to be socially shut off and unavailable for new friendships. We are therefore currently publishing portraits on our Facebook site of friendships between ethnic Danes and women who have come to Denmark from a foreign country as adults. In total, we will be presenting twelve friendship couples where the participating immigrant women form a wide impression of the world; From Vietnam to Ghana and from Turkey to Morocco. Each photo will be accompanied by a short account of how and where the friendship began and what particular elements it has been built upon.
Might we have varying ideas and expectations when it comes to friendship? With this project, we intend to delve into the theme of friendship and hope to provoke discussions about our expectations of one another. We believe that our presented examples of friendly relations, will contribute to opening the eyes of our society to the problem. Additionally, we hope the project will inspire its audience to become more active in initiating contact with the people around them. And finally, we expect that these examples will lead to new meetings with ethnic Danes and contribute to the formation of new friendships.
The task of photography was given to the two very talented photographers Daniel Tuladhar, whose family is of Danish/Nepalese origins, and Claudia Adeath, a renowned Mexican photographer, who is currently finding her own footing on the Danish labor market.