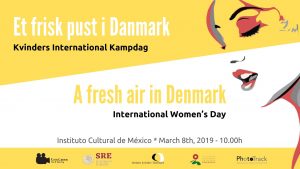 INTERNATIONAL WOMEN'S DAY EVENT
A breath of fresh air in Denmark
We want to honor women who fight for a place they can belong to. We chose to do so, during this year's International Women's Day. We want to celebrate women who share their strengths, experiences and love with this country they live in. We want to celebrate women who are capable of change, who contribute to society and who are ready to do more for the rest of the world.
Women are a breath of fresh air in Denmark
During this event, you will meet fellow women and learn more about the organisation The World's Women in Denmark, you will also meet successful female entrepreneurs while learning more about confidence in women.
Languages: English and Danish
Place: Instituto Mexicano de Cultura
Gammel Vartov Vej 18, 2900 Hellerup, Danmark
Hour: 10h
Program
10.00 – 10.15 Welcome
10.15 – 10.35 Presentation by The World's Women in Denmark
10.35 -10. 50 Presentation "A breath of fresh air in Denmark" digital campaign.
10.50 – 11.05 Presentation PhotoTrack, a successful story by Claudia Adeath
11.05 – 11.20 Presentation TBC, a successful story
11.20 -11.30 Break
11.30 – 11.45 Short film
11.45 – 12-30 Workshop – How to be confident as a woman by Rosa Camero
12.30 – 13.00 Get to know the other women in the room – Networking