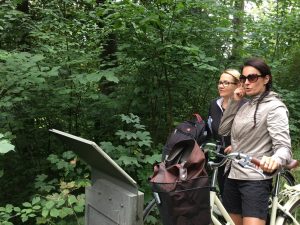 Throughout the fifteen years of our organisation's existence, we have hosted numerous debates and organised many events focused on integration. Furthermore, we have also developed the 'Clever Monday' system that serves as a guide to the integration process with at least forty different topics. These can be found here on the site, in the Projects menu under 'Clever Monday'.
We continue to explore new life style elements in Denmark that we as foreigners, would like to use and understand in a more ideal and integrated manner. We are currently looking at three topics upon which we would like to shed some light; Wine, Travel and Bicycle Rides.
It is a fact that the ability to bicycle is very much necessary in Denmark, and while many of our members use their bikes as transportation to and from work, we feel that it is time to take this even further! We believe that it is time to explore the fun and leisure elements that exist around bicycling in Denmark, instead of practical uses only. We are therefore planning to organise short bicycle rides in the outer regions of Copenhagen, and from there on we will see how it goes! We are also considering whether such rides should take place under the leadership of our Danish members due to their significant experience in this area. There has been enquiries done to see whether another local organisation could take responsibility for guiding these trips, however no such mentorship program has been found as of yet.
We chose a sunny day in September to check out our bicycling abilities and completed the forest trail found in Grøn Guide Gentofte. We had a great time and returned home with increased enthusiasm for the continued exploration of our country through bicycle rides!