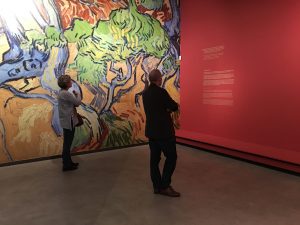 About two or three times a year, we arrange group visits to museums and exhibitions. Not only does this enrich our knowledge of art and develop our tastes and horizons, it also bears fruit in terms of social benefits as we get to know each other better. Every year we gain new members, and this is our strongest tool for learning how to navigate through the everyday in this new country of ours. We continue to learn so much from one another.
This time around, we experienced Van Gogh as a group. This was very special as it has been more than fifty years since a large, separate exhibition of Van Gogh's paintings and drawings was made available in Denmark.
There were also other exciting exhibitions to be found at ARKEN, which is an incredibly interesting museum for modern art that we definitely recommend anyone to pay a visit to! Additionally, the museum is located amongst the beautiful surroundings of the Køge bay.