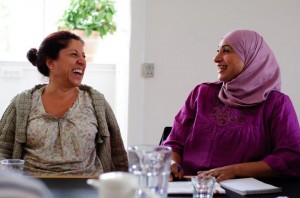 "My heart will always be in the place where all people are equal".
On the 28th of August the organization called "World's Women in Denmark" invited Nilgun Suner and Trine Henriksen from the party named "Enhedslisten" to tell about their party, its values and aims.
Nilgun began the meeting with her personal memories about how she came to Denmark, when she was four years old, and how she was brought up here. She saw examples of a slighting and humiliating attitude towards immigrants from Turkey, many of them received an inferiority complex as a result. It was very important for Nilgun's parents to give their children a good education and a better life. At that time there were many communists among the Turkish immigrants who came to Denmark. Nilgun's mother brought her and her sister to the women's movement in the communist party, so they could learn more about their rights.
It was quite natural for Nilgun to become a member of the party, "Enhedslisten", where she could see herself, that all members of the party were equal. According to Nilgun, "Enhedslisten" means that inequality is unjust. And that has become the main point in her struggle for equality in the society.
Another representative from "Enhedslisten", Trine Henriksen, is a member of the Town Council in Gladsaxe where she takes an active part in the projects connected with the environment and trade unions' work. She thinks that nowadays the most important problem is that the unemployed are considered to be a second-class people. Trine explained that "Enhedslisten" struggles for the society where there is a place for everyone and all people are equal.
After "Enhedslisten" representatives' opening speeches a lively discussion started. Some of the questions were devoted to the ability of "Enhedslisten" to solve some particular problems connected with the immigrants in Denmark. There was also discussed the question whether there is a place for everyone in the party, because one of the demands to its members is to be able to lead the discussions on a high professional level.
The struggle for the equality in the society concerns all people, not only politicians. Nilgun underlined that there would be more progress in this struggle if everyone led his own the struggle every day.
The meeting went very positively and enthusiastically, rounding up our project "Women-immigrants who will vote". The organization "World's Women in Denmark" has made this project to help the women who immigrated to Denmark to learn more about the political parties which exist in the country and the political life in Copenhagen.